Aglianico
Showing all 2 results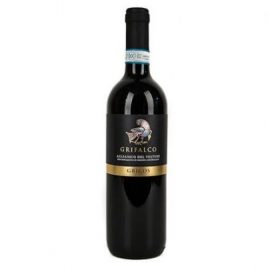 Aglianico del Vulture DOC 'Gricos'
The grapes come from vineyards located in four different areas of Vulture. It is subjected to a fermentation of about 10 days at a controlled temperature, with delicate remontage and délestage in order to give the wine floral and intense aromas. Aged in Slavonian oak barrels for 12 months. The structure makes it an excellent wine for every type of meat, as well as for well-seasoned pasta dishes.
Producer Azienda Agricola Grifalco
Country Hierarchy Basilicata, Italy
Grape/Blend Aglianico
Alcohol Content
Read more
Aglianico del Vulture DOC 'Grifalco'
It shows a brilliant ruby ​​red. to the nose and taste it is rich, expressive and profound. Floral, mineral and fruity, with hints of rose and red fruits. The sustained acidity lengthens the finish.
It is a wine that can last a long time, but the richness in the fruit and in the taste is better appreciated if it is tasted within five years of the harvest.
Producer Azienda Agricola Grifalco
Country Hierarchy Basilicata, Italy
Grape/Blend Aglianico
Alcohol Content
Read more